Join us for the Happy Holidays Scavenger Hunt via the Finger Lakes Runners Club forum! It's free to participate and you can join any time during the event. The event will run from November 22nd to December 31st, 2020. You may run, walk, or hike, and there's no minimum mileage required. ("Run/running" below means run, walk, or hike.)
Each week in the Group Runs & Workouts forum, we will post six items to find while on your run. For each item you find, photograph, and post to that week's hunt list, you'll get one point (no repeating items for multiple points). The people with the most points each week will be entered into a drawing to win some fun FLRC swag at the end of the event.
Additionally, the race director may choose an additional person to add to the drawing each week. This choice may be based on particularly an artistic or amusing photo, or how many "likes" a picture receives on the forum.
Take selfies with that week's hunt items while on your runs, and post them in the hunt list thread on the FLRC Forum. (From a desktop computer, you can just drag your photo in; from a smartphone, tap the upload button and then pick a photo; see the screenshots below.) If you're feeling shy, a picture of the item alone is okay, but the goal here is to share in each other's adventures. We all get messy when we run, so no judgments!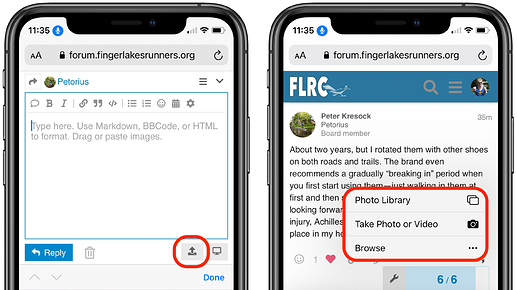 Please follow Finger Lakes Runners Club's guidelines for physical distancing so you can enjoy running while reducing the risk of spreading COVID-19. Be sure to comply with your state, county, and municipality orders and guidelines as well.
Look for the first set of items in the Group Runs & Workouts forum on Friday night. Any questions? Feel free to ask here.
Happy hunting!
Note: Deer season starts this weekend and runs through December 13th. While you're out on the trails, even if gun hunting isn't allowed in that area, it would be best to wear bright colors, with blaze orange preferred. Stay safe!