A huge thank you to each and every one of you for helping out Ian and Finger Lakes Running Company! Together we raised $15,335.00 to help Ian and his shop stay above water while closed under the New York governor's mandate. When I put this run together I expected maybe 200 people max. Instead, we had 527 people register—361 in the 19-mile, 129 in the 19K, and 38 in the 1.9-mile. People with ties to Ithaca or to Ian and his store signed up from all over the country. We even had a few runners participate in London, one in China, and one Ithaca expatriate now living in Jerusalem. Let this serve as a testament to how strong and dedicated our running community is to paying it forward and helping one another!
Gift Card Drawing
Congrats to our randomly drawn gift card winners!
The following ten winners will receive gift cards for $50 apiece to Finger Lakes Running & Triathlon Company, purchased by the Finger Lakes Runners Club. We'll email each of you about how to get your prizes to you.
Carol Luthy
Stephen Jesch
Brian Rahm
Tom Pepinsky
Mikhail Kern
Ellen Abrams
Sandra Gregorich
Jessica Kerns
Paige Anderson
Karen Nassan
Robert Swizdor is the winner of the $50 gift card for Happily Running, donated by Vinny Cappadora.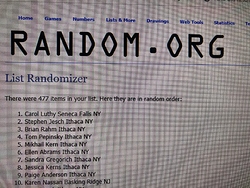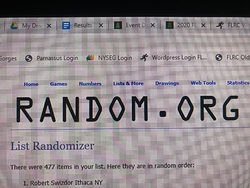 Results
Self reported results are available now on UltraSignup , and will soon be posted to the FLRC race Web page. If there are any errors in the listed times, please let me know ASAP so I can correct.
Meanwhile, anyone who completed their distance can add this digital finishers badge to your online accolades. Then check out all the stories people shared about their runs on our Facebook event page, and on Twitter and Instagram with #SaveOurShops and #RunGorges.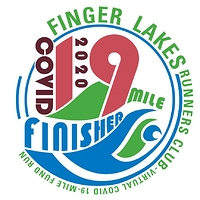 Several people took videos during their run. While I can't link to all of them here, these are a few of the highlights.
Simon Ingall running the Danby Down & Dirty course 
Scott Dawson's tour de Trumansburg 
Ian Golden's "A Slice of Ithaca"
Ian's "Thank you" message
Tompkins Weekly's news article on the fundraiser
Thank you again to everyone for making Finger Lakes Runners Club's first run of this type a huge success! I hope you are all motivated to keep active and stay healthy. Thanks again for the overwhelming turnout and show of support!
Pete Kresock, Race Director