The 49th running of the Finger Lakes Runners Club's Turkey Trot was a huge success. A record $4,251 was raised for Loaves & Fishes, and 289 people participated on a cloudy, 38-degree morning.
Donation History
2010–13: Truckloads of cans and boxes of food collected
2014: $2,024 collected with 333 participants
2015: $2,855 (423 participants)
2016: $2,756 (268 participants)
2017: $4,030 (397 participants)
2018: $2,549 (211 participants)
2019: $4,137 (312 participants)
2020: $4,192 (virtual, 157 participants)
2021: $4,251 (289 participants)
Next year will mark the 50th running of the Turkey Trot and will be, after 15 years, my last year directing this wonderful event. The Turkey Trot is totally hands-on. Paper meets pen. Tradition. Family. Memory. If you are interested in helping out as assistant race director in 2022 and carrying forward the torch in future years, please contact me at bar2@cornell.edu. I particularly need your help next year, where I plan to have orange long-sleeve T-shirts commemorating the 50th Turkey Trot.
I have spent the two weeks since the Turkey Trot transferring names and actual times submitted on stickers handed out at the finish line to the signup sheets with predicted times. "By hand" takes time! Here's a PDF of the "results."
Thanks to Ithaca Bakery for their donation of bread, bagels, and pastries, Purity Ice Cream for the prize-winning pies, and Cornell Orchards for apples.
Thanks to my many volunteers: my wife, Kathleen Gibson, for her endless help and for being my food czar; Tom Hartshorne for directing traffic (and tireless behind-the-scenes work on the trails); Joel Cisne, Corrine Hartshorne, and Luke Mendola for directing traffic; Adam Engst for taking tons of pictures; Yvette deBoer for reading out times; Gerrit Van Loon for figuring out who was closest in their predictions; Dan McKee and Rob Kurcoba for helping me with copying and PDFs (I'm retired, sans office!); and Christina Culver, director of Loaves & Fishes, and her crew of registration line/finish line/food helpers Gina, Viv Williams, Tom Schneider, Susan Lang, Harold Cheyne, Rowan Cheyne, and Deborah Kiely.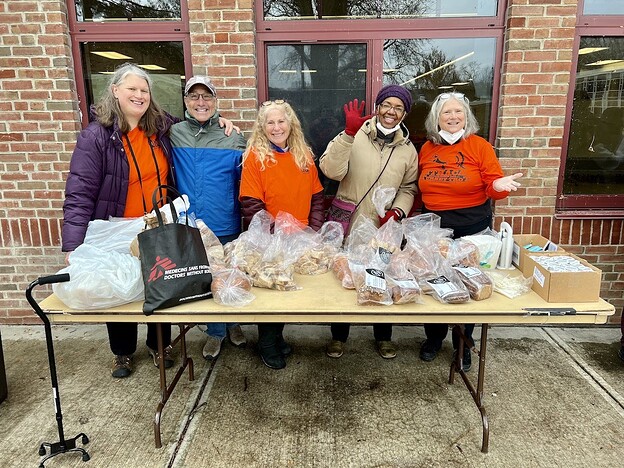 Gobble Gobble!
Bruce Roebal, Director
Ithaca Turkey Trot
Show Registration Information
ABOUT
FLRC's Thanksgiving Day Turkey Trot is a prediction run where you attempt to guess your time for the roughly 5.5-mile course. The route is half paved roads and half trails and grass; shortcuts ARE allowed. Those who come the closest to their predicted times will win delicious pies. Despite the unpredictable course conditions and weather, winners often come within a few seconds of their predicted times.
We no longer collect cans of food, but instead accept cash donations to Loaves and Fishes of Tompkins County — the suggested donation is $10 per person. In 2020 alone we raised over $4,000 for Loaves and Fishes through our virtual edition of the run, bringing the total over the years to over $22,000.
Are you on the Turkey Trot Honor Roll? If 2021 will be your be your fifth time (or more) participating in the run, let us know! We'll add you as a Turkey Trot Honors Student.
There are no watches or timing devices allowed. The run is meant to be fun and bring people together for a great cause. Everyone leaves with a smile on his or her face and a few extra calories burned!
WHERE
Meet at the Ithaca High School cafeteria, following signs through the IHS courtyard on the Cayuga Street entrance.
The course goes up into Cayuga Heights via a short and steep dirt path, then descends gradually down Remington Road. It then follows the Waterfront Trail around Stewart Park, makes a loop around the perimeter of Newman Municipal Golf Course, and returns via the bird sanctuary. Getting lost isn't really a problem—simply follow someone who knows the route, as there are plenty of Turkey Trot veterans who run it every year.
WHEN
Meet at the IHS cafeteria between 8:00 and 8:30 AM. There is no pre-registration. Suggested donation is $10, onsite and cash only.
The run starts at 9:00 AM.
NOTES
Restrooms are available inside IHS, but there are no changing facilities or showers.
Post-race bagels, croissants, apples, and cider will be provided.
For remaining questions, please e-mail race director Bruce Roebal at bar2@cornell.edu.
WARNINGS
The course crosses an active railroad track. We can't control or predict the train schedule, and if a train is coming, you must stop.  Also be aware that the course includes roads that are open to traffic. Course marshals will assist you in crossing, but all runners need to be alert and aware of traffic.
POLICIES
No watches or other timing devices allowed—this is a prediction run!
The race directors reserve the right to reject any entry for any reason.
This race is organized by the Finger Lakes Runners Club and insured by the Road Runners Club of America.